Guide to U.S. Indian Quarter Eagles
The Indian Head Quarter Eagle was introduced in 1908 and produced intermittently through 1929. The series is most well-known for having an incused design rather than a raised design as seen on the majority of coins. Although there was some opposition to the design when the coins first appeared in circulation, it is now considered extremely artistic. The series remains approachable for collectors with only fifteen distinct circulation issues, which carry relatively high mintages with the exception of one notable key date.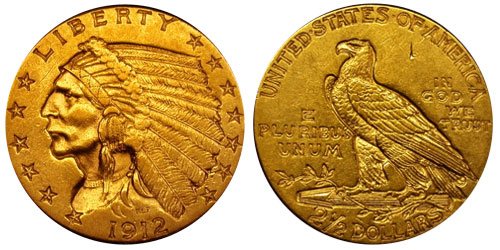 1912 Indian Quarter Eagle
By the early 20th century, the designs for all of the circulating gold denominations had been in use for more than 50 years. President Theodore Roosevelt had expressed his strong displeasure for these designs and his ambition to make American coins as grand and beautiful as those of Ancient Greece. He began to fulfill his vision by working with renowned sculptor Augustus Saint-Gaudens to redesign the eagle and double eagle denominations in 1907. After Saint-Gaudens's death, Roosevelt would continue the process with the redesign of the half eagle and quarter eagle in 1908.
Dr. William Sturgis Bigelow, a close friend of President Roosevelt, had suggested using an incuse design for the minor gold coins. Up to that point, all United States coinage had the various design elements and inscriptions raised above the fields of the coin. An incuse design would have the design elements and inscriptions sunken below the surfaces of the coin. After receiving approval from Roosevelt, Bigelow contacted Boston sculptor Bela Lyon Pratt to design the new coins. Pratt had graduated from Yale University and studied under Augustus Saint-Gaudens before traveling to France to study under well-known French sculptors. Upon his return to the United States, he would create large sculptural groups and teach at the School of the Museum of Fine Arts in Boston.
Pratt designed both the quarter eagle and half eagle denominations, which shared the same sunken-relief design. The obverse features a Native American male chief with a large ceremonial headdress. The word LIBERTY appears above, with thirteen stars surrounding and the date below. The reverse features an eagle, perched on a bundle of arrows with an olive branch in its claws. The inscription E PLURIBUS UNUM appears in the left field, and IN GOD WE TRUST is in the right field. The inscription UNITED STATES OF AMERICA is above, and the denomination expressed as 2 1/2 DOLLARS is below.
The series is notoriously difficult to grade due to the incuse design, which does not experience the typical wear patterns seen on all other United States coinage. The design elements remain protected from wear since they are sunken beneath the surface of the coin. Meanwhile the fields of the coin are very susceptible to contact marks or friction due to the lack of a raised rim.